Membership status:
Silver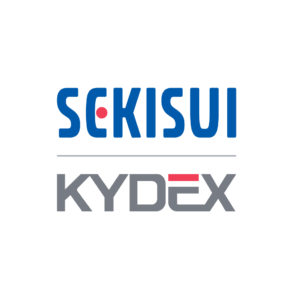 SEKISUI KYDEX innovates and creates sustainable thermoplastic material solutions for the next generation mass transit interiors product development. With a refined degree of integral finish, colour, and design, KYDEX® Thermoplastics enhance the passenger experience. Reimagine designs, replace heavier materials, and improve the overall aesthetic of your rail car interiors to unlock possibilities never imagined before.
Industry advancing design in railway interiors takes time to achieve but with early collaboration across material suppliers and the supply chain, we can speed up railway interiors development. The SEKISUI KYDEX Innovation Centers, appLab™ and designLab® are collaborative spaces for clients and customers to bring the supply chain together for rapid prototyping, and to inspire CMF designers. designLab® is where art and science combine in a collaboration space for industry thought leaders to develop a deeper understanding of colour and design. Explore 3D virtualization and use vivid colours, textiles, and imagery to create your own prototype. Inside appLab™, engineers and designers have room to explore, and ideas have room to grow. The appLab™ team uses dedicated fabrication tools, test equipment, and technology to develop, refine, and produce custom solutions.
Formulated specifically to meet European rail interior specifications, KYDEX® 2210LT materials are ideal for rail car interior applications like walls, passenger seat backs, armrests, tray tables, and window masks or shrouds. The fully compliant (EN 45545-2 R1 and R6 Hazard Level 2) portfolio meets all the stringent requirements of industry certifications for passenger safety.
KYDEX® Thermoplastics have distinct design, cost, and environmental advantages over fiberglass. Long-term durability and weight savings over FRP, aluminum, or steel make KYDEX® Thermoplastics a desirable choice for customers who expect rail cars to last 20 years or more. KYDEX® Thermoplastics are also recyclable, making them an environmentally sound solution that supports end-of-life recyclability and life-cycle design.
The KYDEX® Thermoplastic Quick Response Manufacturing (QRM) business model produces these bespoke materials with short lead times in small quantities.
More than 300 dedicated professionals in Bloomsburg, PA, and Holland, MI, are working with a global network of sales and distribution partners and are committed to delivering more than their customers can imagine.
Visit www.kydex.com for more information.
Profile last updated: 2022-08-18 11:33