Qualitrain Limited - Member
Membership status:
Member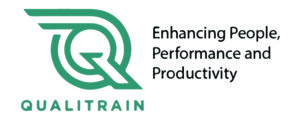 Qualitrain delivers both funded and full cost training that encompasses engineering and manufacturing as well as business improvement techniques, powered equipment and warehousing and storage. Qualitrain's clients include companies such as Bombardier (Alstom), Loram and Yellow Rail.
Qualitrain's highly qualified training team have many years' experience working within the railway. From beginning their careers in industry they now teach, our experts have an impressive track record of being involved with some of the UKs largest rail projects to date, including Docklands Light Railway, London Underground, Shuttle and Class 92.
Training your workforce provides the skills required to increase efficiency, productivity, cost savings and customer satisfaction. In addition, it can boost the moral of the learners, equipping them with the knowledge they need to excel in their railway career.
Qualitrain work closely with you to obtain a deep understanding of the business needs, offering a bespoke service for your organisation and learners. The target is on achieving tangible, quantifiable, bottom line benefits shown in quality, cost, delivery and health & safety.
In addition to this, Qualitrain also provide assessment support for competency management systems as well as training on core competencies.
Contact member:
26 Royal Scot Rd, Derby DE24 8AJ
Profile last updated: 2021-08-02 04:14