APPLICATIONS ARE NOW CLOSED
___________________________________________
Introducing RVE BigIdea

The Rail Forum are delighted to be working with colleagues at the Modern Railways RVE Expo for another year with this refreshed supplier engagement activity for UK registered companies.
RVE BigIdea offers suppliers the opportunity to pitch their recent and imminently commercially viable products and services, which can support the development of the industry across four key themes, to a range of potential customers.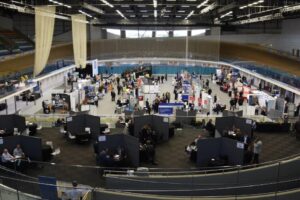 Themes
BigIdea focusses on four key themes:
Accessibility – provision of solutions which enhance the accessibility of any aspect of vehicles by any user*, which could include:

Journey comfort
Information (pre/during/after journey)
*types of users including disabled, abled, travelling with children, bicycles, elderly, young children
Asset Optimisation – provision of solutions which optimises utilisation of vehicles or enhances services to customers (passengers and freight), which could include:

application of AI
application of data analytics
data exchange between vehicles and infrastructure
maintenance and Remote Condition Monitoring; logistics solutions and modernisation; obsolescence and reverse-engineering solutions
Decarbonisation– provision of solutions that significantly contribute to the NetZero agenda, which could include:

reduce carbon emissions,
improve energy management and efficiency,
reduce weight
use fully recyclable components
Productivity – provision of solutions that can drive productivity gains for railway activity with specific focus on rolling stock which could include:

Manufacturing,
new build,
depot operation
and maintenance
Applications are invited which carefully articulate their support to addressing up to two of these themes.
Customers
We are delighted that 18 industry organisations have agreed to take part: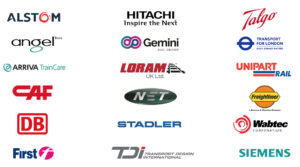 Process
Suppliers are required to complete the online application form.  This form will be open on 13thSeptember for 2 weeks only.  The form will close at 5pm on 24 September.
Only one form per organisation – UK registered companies only* (*non UK entities exhibiting at RVE are permissible).  Duplicates will not be processed.
Forms can't be saved and will need to be completed in one go.
To support your preparation, the questions can be downloaded here.
Forms will be processed by the Rail Forum, which will include a validation step and invoicing.  See Costs for more details about invoicing.
Validation will be conducted by a representative panel and will provide value-add step to ensure that offers are clear and meet the needs of the theme/s they are responding to.
Key Dates
Monday 13 September (9am)- Applications open
Friday 24 September (5pm) – Applications close
Monday 27 September – Rail Forum processing
Monday 4 October – Issue of Customer Packs for review
Friday 15 October – Deadline for Customer Selection
Week commencing – 25 October – Issue of appointments
4 November – Show Day!  Please register as a visitor (if you are not already attending as an exhibitor).
Costs
As a benefit of membership, Rail Forum Members can apply free of charge.
As a benefit of exhibiting, RVE Exhibitors can apply free of charge.
UK registered suppliers who are not members and/or not exhibiting will be required to pay an administration fee of £150.  This will be via online payment and is required prior to applications passed to the Customers.
The administration fee relates to the process and is not linked in any way to the allocation of appointments.  Appointments are selected by the customers and not the Rail Forum.
Applications which have not passed the validation step will not be invoiced.
FAQs
How many themes can I apply for?
You can apply to a maximum of 2 themes.  This will need to be done at the same time.  You will not be able to return to the form to edit after submission.  Please review the pdf of the form so you can prepare prior to the application window opening.
Can I save my form and come back to it later?
No unfortunately not.  Please use the pdf details of the form to prepare, prior to submitting.
Can I submit more than one form?
No.  Only one application per company is permissible.
Can I submit a joint application with a partner?
Yes.  This will be well received.  Discuss your approach carefully with your partner.  We will not allow multiple entries from each partner and a joint application.  If you have questions about this, please contact Cat Appleby, Cat@midlandsrail.co.uk
My company is not a UK registered business – can I apply?
This activity is open to UK registered businesses only.  Companies exhibiting at RVE are excluded from this requirement.
I need to get NDAs signed
Unfortunately we are unable to sign NDAs in this process.  If your idea is in the early stages or has commercial sensitivities, please do not use this initiative (this year).  Protect your IP.
What does 'recent' mean?
Products or services or significant developments which are no older than 18 months or those in the latter stages of development, for which you have considered IP protection prior to submission.
Why is there a validation stage and what does it entail?
This is to ensure submissions meet the themes they are responding to.  The validation stage will be conducted by a representative panel.  They will be required to briefly assess the applications to check recency of product/service offering and match with the theme.  Some may be rejected and others may be returned to the primary contact to clarify the submission prior to proceeding to the customers.
I don't want my submission to go to all the customers
To provide greater value add, the customers will receive all the applications.  There is no opt-out possible on any one customer.
I need to pay by invoice
Unfortunately the timeframes of the application window and sharing of submissions with customers, do not provide time for invoice and standard payment terms.  To this end, online payment only will be possible. Once payment is received we will issue a VAT invoice/receipt marked paid for your records.
APPLICATIONS ARE NOW CLOSED.