CWE Ltd - Silver Member
Membership status:
Silver
CWE is your experienced, expert supply chain partner for maintenance, repair and overhaul of rolling stock components and assemblies. Our core products include couplers, bogies, site support, wagon Gr's, fabrication and machining.
We are a forward-thinking and agile company that works with its customers to actively solve problems through intelligent and creative solutions. We provide only the highest quality service and believe engineering excellence can be 'fleet of foot' and cost efficient.
CWE has been delivering specialist engineering solutions since 1966. We are dedicated to the rail industry and as well as being proud of our past, we look confidentially to the future, supporting tomorrow's engineering talent with our apprenticeship scheme. We work out of our modern Centre of Excellence in South Yorkshire and see ourselves as an important part of the local community. Our products and services include:
Repair and overhaul
Buffers
Couplers
Bogies and bogie frames
Gmeinder gearbox casing
Drawgear
Fabrication and machining
Welding to EN15085
On-site wagon repairs and servicing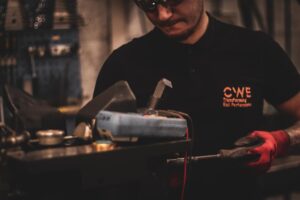 Contact member:
Wharf Road, Ealand, Scunthorpe, North Lincolnshire DN17 4JW
Profile last updated: 2023-06-20 10:05