The rail industry is changing. As the landscape transforms, Rail Forum membership can form a vital part of your activity: keeping you informed, providing a wide range of events to support your knowledge, networking and business growth activities and creating strong relationships to help you managing todays challenging operating conditions.
The Rail Forum is an inclusive sector organisation and we welcome interest from companies already operating in the sector.
For companies that have something new to offer, we look forward to discussing this further with you.  Areas of particular interest are:
Decarbonisation
Digitalisation
Lightweighting
Cost reduction/cost efficiencies
and Innovation
Membership is limited to UK registered companies.
Membership options
The Rail Forum offers a range of value for money membership options to suit every budget and provide excellent promotional opportunities.
We are delighted to offer three different membership options to suit every budget.  Find out more with our Membership Options 2023-2024.
The Rail Forum Buddy System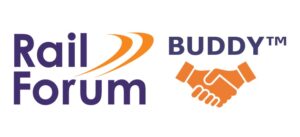 Last year we launched our Buddy System for all new members joining the Rail Forum. Using intelligent pairing, we will connect all new members with a 'Buddy' made up from a number of member volunteers. This interaction will give a member perspective about how to get the most out of their membership. It will also assist in getting new members started on their networking journey.
Member Testimonials

When looking at becoming members of industry organisations, there was no question in our minds about joining Rail Forum. They instantly appeared to be an organisation with it's members at the heart of what they do and this has proven to be the case. They are proactive in establishing a relationship with their members as well as adding value and supporting you where they can, this is an excellent service. Anturas joined to help increase our market presence, the networking opportunities Rail Forum presents are invaluable in supporting this as well as other profile raising activities they offer.
Cath Leech, Managing Director, Anturas