J-Flex Rubber Products - Silver Member
Membership status:
Silver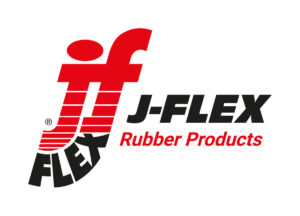 J-Flex are a leading supplier of high-performance rail infrastructure and rolling stock solutions – including low smoke, low toxicity, rubber products for rail and mass transit.
Our extensive range of unique elastomer materials for surface, sub-surface, tunnel and rolling stock applications are all tested & approved to EN45545-2 and many other certifications, including LUL S1085 compliance.
Components are available in the following elastomer materials:
50° / 60° / 70° Shore EPDM
Vamac®
Medium Density Silicone Sponge
Pure Neoprene Sponge
40 to 60° Shore Silicone
70° Shore Natural Rubber
Supplied as:
Sheet Rubber
Cut Gaskets; Joints & Strips
Precision Moulded Components
Extruded Profiles & Sections
Seals
Vulcanised Joined Profile Frames
Bellows
Laminated Composites (rubber & sponge)
Sponge/Foam Sheets or cut parts
Machined Plastics & sheets
Naturally, we also provide other sheetings and components, where conformance with EN 45545-2 is not a requirement.
For further information, help or quotes, please contact us using the details below, or via our website, quoting Rail Forum as your source.
Contact member:
Units 1 & 2, London Road Business Park, Retford, Nottinghamshire, DN22 6HG
Photos:
Profile last updated: 2023-05-31 10:14