West Midlands Trains - Member
Membership status:
Member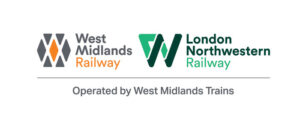 West Midlands Trains operates passenger rail services from London to Liverpool and across the West Midlands.
In the Midlands the West Midlands Railway brand is a local railway, placing Birmingham at the centre of its network. We run the majority of the local services, as well as direct trains to many of the surrounding towns and cities, including Redditch, Stratford-Upon-Avon, Worcester, Hereford, Shrewsbury, Telford and Northampton.
Our London Northwestern Railway brand serves the London to Liverpool route on the west coast, stopping at Birmingham, Milton Keynes and Northampton, with the West Midlands at its heart.
Both services are operated by West Midlands Trains Ltd, a joint venture owned by Abellio, Mitsui and East Japan Railway Company (JR East).
Contact member:
134 Edmund St, Birmingham, B2 3ES
Profile last updated: 2022-04-10 09:27