Barry Michael Aldridge – Head of Marketing for Loughborough-based Flotec, reflects upon what has been an exciting 2021 and looks towards the future.
"Undoubtedly, one of the most enjoyable aspects of my role is to communicate successes and publish exciting stories about the Flotec team.
2021 has been an exceptional year with a vibrant mix of positive news to share with our stakeholders.
At the beginning of the year a series of core values were published which we believe to be important to us as a company, our culture, and our people.
The Flotec core values consist of, innovation, belonging, empowerment, ownership and accountability, ethics and trust, customer service.
As I spend some time reflecting upon this year's achievements and pen this article, I realise that throughout the year Flotec has demonstrated precisely how successful we are in adhering to the very principles we find so meaningful.
Beginning with innovation, It was with great delight that on Tuesday 14th September, Flotec scooped a prestigious award for innovation in manufacturing and engineering through a ceremony organised by Reach PLC and LeicestershireLive.
It was amazing to be present (in the real world) and to be surrounded by so many open-minded, gifted, and talented people.
An inspirational evening where it was exhilarating to witness the outstanding achievements and endeavours taking place throughout the region.
This award win is testament to the innovative and solutions-based approach which everybody within Flotec adopts.
The submission focussed upon the variable pitch fan for DMU trains which is totally deserved by all involved with the design, testing, manufacturing and installation of this mechanical marvel!
Additionally, this year has continued to highlight how we as a team have embraced technology and change to navigate the on-going pandemic.
As a group, we have all adapted and innovated incredibly well.
I feel passionate about SMEs and their ability to make rapid and quick change to manage any given scenario.
SME companies are incredibly flexible, creative, and forward thinking.
Flotec is evidence of this.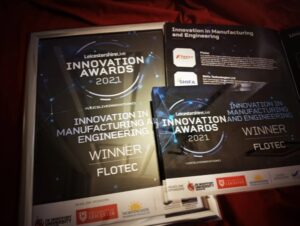 Belonging, empowerment, ownership and accountability is without a doubt embedded within the Flotec way of being and in May of this year, was my pleasure to publicise Flotec's move towards becoming an employee-owned trust which symbolises everything this particular core value stands for.
When contemplating the value of ethics and trust, one feature which immediately comes to mind is the story of Flotec's very own Chloe Lofthouse and Sophie Wright who took it upon themselves to address mental wellbeing.
On 9th July 2021, the duo undertook a FAQ Level 2 Award in Mental Health and were successful in earning the stripes of 'Mental Health Workplace Responder's'.
The course was developed and delivered by St John Ambulance and is ofqual regulated.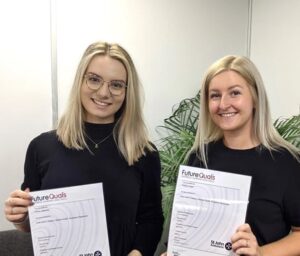 When it comes to customer service the numbers really do speak for themselves! A customer survey distributed in November returned an NPS score of 87.5% which according to qualtrics.com is considered world class!
It was wonderful to receive some incredibly positive and encouraging comments which again is testament to Flotec's people who work incredibly hard to deliver an outstanding level of customer service and care.
Flotec has continued to display industry presence whereby it was a delight to exhibit at this year's Rolling Stock Networking (RSN) event, expertly organised by Kevin and Susan Lane.
As always, it has been enjoyable sharing new product launches and case studies which is proof of Flotec's continuing ability to expand, diversify, service our customers and to deliver innovative engineering solutions.
January 2022 will mark my second year working for Flotec and am thoroughly looking forward to the future, its inevitable adventures and the opportunities which lay ahead.
Flotec will forever have new and exciting stories to tell because of our commitment to the core values.
As a team, we continuously investigate and find new ways of doing things and instinctively create and invent unique solutions relevant to the task in hand.
I know that 2022 is going to be another incredibly vibrant, productive, and successful year and I look forward to sharing our news with the world!
As a friend recently told me, the best way to predict the future is to invent it.
Exciting times ahead!"
ENDS.
Notes to Editors:
Loughborough based Flotec Industrial Limited has been supplying hydraulic and pneumatic solutions to both rail and wider industries since 1995.
For more information, please contact Barry Michael Aldridge FCIM CMktr, Head of Marketing for Flotec Industrial Limited
Flotec Industrial Limited
Off Pavilion Way, Jubilee Dr, Loughborough LE11 5GW
Tel: 01509 230100
Email: barry@floteconline.com
Website: https://www.flotecindustrial.co.uk
Online Store: https://www.floteconline.com