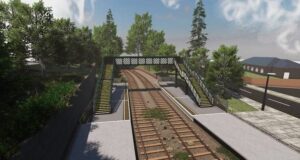 As you are likely aware, there is a growing demand for level crossings to be replaced across the UK Rail network due to the high risks they pose to the general public. This has led there to be numerous new footbridge designs developed for the Rail Network, for example, the Ribbon Bridge, the Frame Bridge, the FLOW Bridge, the AVA Bridge, and the Beacon Bridge. However, at Taziker we feel our Legacy Bridge solution brings something different to the network.
The Legacy FRP Footbridge is a cost-effective, maintenance-free, FRP solution that can be quickly and efficiently installed in remote or difficult to access areas.
We have achieved this by bringing together proven innovative technologies, thereby providing a new market for the production and installation of safe access across the railway to replace existing dangerous level-crossings.
Due to the compact design, the footbridge can fit onto existing foundations as well as bringing space-saving benefits when limited land is available.
Unlike other competing FRP Solutions, the Legacy Bridge utilises FRP pultruded structural sections rather than FRP mouldings.
The use of pultruded structural sections, whilst increasing the materials required to satisfy the structural requirements, eliminates the need for multiple moulds, and allows the design to be modified easily, whilst still maintaining a modular construction that allows for mass fabrication.
The use of pultruded sections allows construction of multiple bridges to be carried out at the same time, and therefore production is not limited to the number of moulds available. By standardising parts within the construction of our three Legacy Bridge designs, we can mass produce parts for multiple projects thus realising efficiencies and saving costs.
Current footbridge designs are expensive to commission, disruptive to build and costly to maintain. Steel bridges are subject to rust and need regular painting, while concrete bridges require extensive foundations that don't meet Network Rail's high sustainability standards and decarbonisation goals.
The Legacy Footbridge however has the added benefit of being maintenance-free, low-carbon and an environmentally friendly solution. Our solution has a significantly lower level of embodied carbon in comparison to steel footbridges and as FRP is resistant to corrosion, rot, mildew, mould, and insects, therefore there isn't the need for repeat maintenance.
With lightweight materials used, the installation of these bridges can be carried out using standard road-rail vehicles, negating the need for heavy mobile cranes and the costs they incur in the formation of haul roads for accessing remote areas.
This lightweight footbridge is also ideal for use with concrete-free foundations, and low-level lighting would be provided using solar/wind powered lighting systems allowing new bridges to be installed anywhere without the need for a power supply and without causing light pollution.
Our FRP footbridge will demonstrate a low carbon approach for materials used during construction and installation – helping to create a greener railway and planet.
The flexibility of the design has already been realised by Network Rail and we are currently using the Legacy FRP Bridge designs for a 3 metres wide bridleway footbridge, in Llanharan, South Wales, as well as a new AFA footbridge in Lostwithiel in Cornwall and a new level crossing replacement footbridge in Shornemead, Kent.
The level of interest being generated for the Legacy Bridge Innovation has been nothing less than spectacular, having already been noticed by the Secretary of Transport, Grant Shapps who personally requested that the original footbridge only scheme at Lostwithiel Station, be upgraded to a Legacy AFA Footbridge Solution.
The Legacy Footbridge is an environmentally sustainable, low-carbon structure that is highly durable and requires little or no maintenance.  Designed to suit any span and aesthetic, – blending seamlessly with stations and locations nationwide.
By using FRP we are committing to a better future environment.
•             Lower costs incurred in the installation and maintenance.
•             Minimised disruption to passengers by reducing the time needed for site installation.
•             All materials UK sourced and manufactured, reducing our carbon footprint.
•             Efficient, reliable mechanical lifts provide access for all.
•             Greater safety for pedestrians using the footbridge.Our research and development of this innovative solution, has given us the opportunity to design and build a Legacy Footbridge for Network Rail in Wales.  A major milestone for the Legacy Footbridge!The Llanharan Legacy Footbridge will replace an existing pedestrian level-crossing and provide safe access across the lines for horses, cyclists, and pedestrians.  The adaptability of our design has enabled the width of the standard design to be increased to 3 metres to comply with bridleway requirements.  The Llanharan project will incorporate earthwork rampways on one side, and FRP rampways on the other to suit the topography of the location.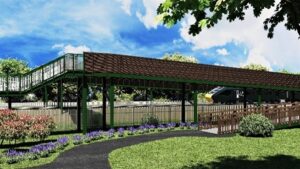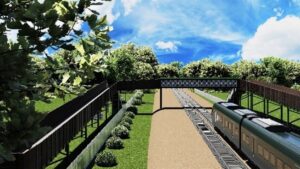 Llanharan Bridleway Footbridge and Rampways – South Wales.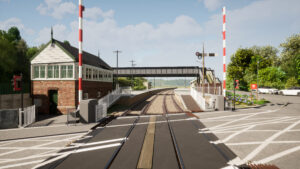 Andrew Haines, Network Rails Chief executive, has also taken a personal interest in the Legacy FRP range of footbridge solutions, and he has asked his team to review other locations where it could provide the most cost-effective solution.
The current cost for Network Rail to install an "access for all" footbridge with lifts at a small station with 2 tracks and 2 platforms, ranges between £4 million and £5 million.
The Legacy AFA Footbridge solution has reduced that cost to below £2.5 million.
We genuinely feel that the success of the Legacy Bridge Innovation will demonstrate how composites can be a real and viable option over steel and concrete structures. With the Legacy Footbridge already being featured in the Bridge Design and Engineering Magazine, we hope an article on our solutions will be of interest to your publication.
We look forward to hearing from you soon.