Sustainable Transport Midlands (STM) is pleased to announce that CrossNorth Programme is being adopted as official policy through their 2050 transport network vision for England known as ourVision.
CrossNorth Programme is an alternate take on the IRP's integration of Northern Powerhouse Rail and High Speed Two, proposing a new city centre tunnel through Central Manchester for use by east-west rail services throughout the North. The tunnel will free up capacity on the notorious Castlefield Corridor, allowing metro-style services to operate, and creating the first phase of a new CrossNorth railway from Liverpool to Leeds. 

The proposed CrossNorth Programme route through Central Manchester.
CrossNorth Programme sets out to achieve a 'poly-centric powerhouse' across the North, by introducing four new underground city centre stations in Manchester located at Manchester Piccadilly, Manchester Central, Salford Interchange and Salford Quays.
Harry Burr, Chief Executive at Sustainable Transport Midlands, said: "I'm happy to announce that after our team visited Manchester last week, we will be supporting this alternate take on what is currently quite a disjointed infrastructure project. The first stage of support will be adopting CrossNorth Programme as official Sustainable Transport Midlands policy through ourVision for 2050. We're looking forward to working with CrossNorth Programme to co-ordinate our effort to reduce regional imbalances nationwide."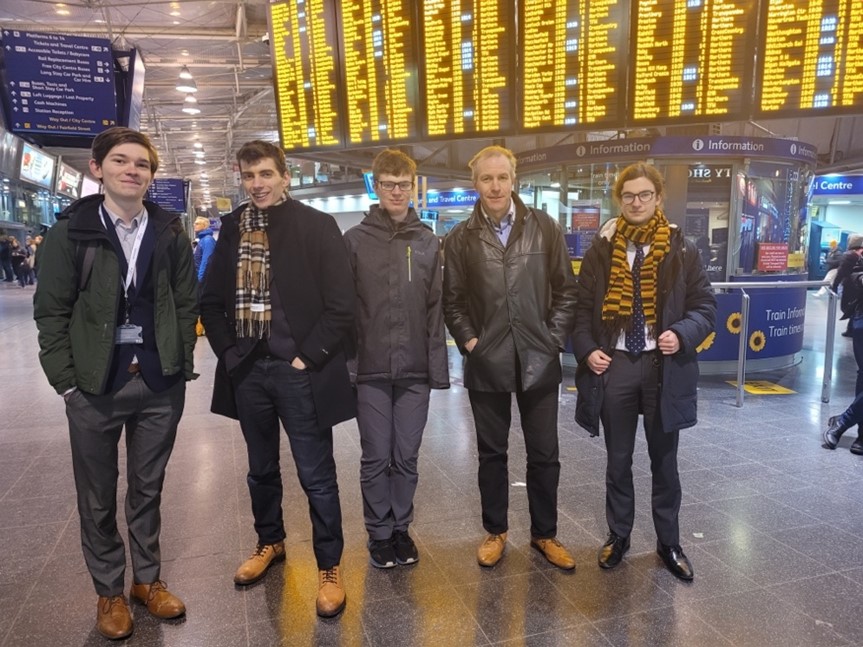 Some of the Sustainable Transport Midlands team at Manchester Piccadilly station on 10th December 2022. Left to right: Harry Burr, George Marshall, Thomas Haines, Owen O'Neill, David Frankal
George Marshall, Founder and Strategic Lead of CrossNorth Programme, said: "I am so pleased that CrossNorth Programme, a scheme that re-envisions the central section of Northern Powerhouse Rail through Manchester, years in the planning, has become STM policy. It is of high importance that projects in the north are also supported elsewhere in the country, as opportunities and benefits will be felt nationwide.
"STM has a high focus on addressing the needs of the young people that will be the main decision and policy makers of the future. As with any major infrastructure project, it needs to deliver on the needs of the people it is designed to serve. STM is a key driver in this, and I am looking forward to working together to achieve an exciting future of quality, integrated and sustainable transport."
George Marshall will also be joining Sustainable Transport Midlands as a Board Director, assisting in big-picture policymaking, and feeding back on the direction of the organisation, effective early-2022.
Owen O'Neill, Group Board Chairperson at STM, added: "It was great to see first-hand George's excellent work developing the project and gaining support thus far, and STM hopes that it can support George to further flesh out the operational details of the project."
 To learn more about the CrossNorth Programme scheme, visit the CrossNorth Programme Twitter page @CrossNorthPr. To learn more about STM's ourVision for 2050, visit transport-mids.com/ourVision, which will be updated shortly to include the newly adopted CrossNorth Programme.
About Sustainable Transport Midlands:
We are Sustainable Transport Midlands (STM) – a transport innovation group, for this generation, by this generation. We work to improve your public and active transport networks – from Grimsby to Gloucester, and Cambridge to Crewe, by collaborating with local, regional, and national stakeholders.
STM contacts:
Harry Burr – Chief Executive                   Harry.Burr@transport-mids.com
George Marshall – Board Director           George.Marshall@transport-mids.com