Staff working in roles across a Derbyshire rail maintenance firm have reflected on how diversity and creating a family-friendly firm can lead to commercial success when they came together to mark International Women's Day.
From a company director with 15 years' experience in the industry to an engineer and a HR manager, the women, who all work at MTMS in Swadlincote, say they've seen the benefits of having a healthy gender balance at work.
The company has a one-in-four female-to-male ratio, which compares favourably to the wider rail industry, where 16% of employees are women.
However, MTMS staff Christine Brown, assistant accountant, Rachel Forst, HR & payroll manager, Cherril Prentice, director, Nicky Johnson, cost accountant and engineer Trish Harris, all acknowledge that while there is still a way to go in the industry, progress is being made.
But, said Cherril, her experience at MTMS and from her earlier career shows that the rail industry has plenty to gain from bringing more women through the ranks and onto trackside and into the boardroom.
She said: "Organisations are stronger when there is a diversity of people involved and I've seen plenty of times when people with different views and attitudes can improve existing decisions and policies for the better.
"That's why the rail industry needs to open up more opportunities for women and I'm proud to be a part of an organisation which recognises this.
"We have excellent gender representation within MTMS and that has helped to create a family ethos and a company that's big enough to do the job but small enough to care."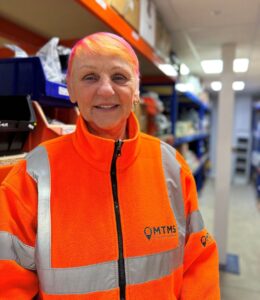 Trish works as a pipe fitter at the depots with her husband, Dean, where they refurbish and carry out maintenance on the carriage cleaning equipment and the controlled emissions toilet systems.
She said: "I've worked in the rail industry since 2004 and although I'm very much a woman in a man's world and I can get a few funny looks from the men, I've never had any problems and I enjoy the work.
"There are more women working in the depots now, which is good. You need to be mechanically minded in this job and I've always liked doing jobs like digging holes. I could never work in an office.
"It does help being able to offer a different view sometimes. In the past I've suggested carrying out a piece of work in a different way to save time and muscle-power that no-one else has noticed and it's changed the way we've gone about it."
MTMS currently services and maintains rolling stock and rail depot specialist equipment and carries out routine infrastructure tasks at more than half of rail depots across the UK, serving such familiar names in mainline rail as Hitachi, First MTR South-Western Railway, Govia ThamesLink Railway, Arriva and Siemens.