On Wednesday 10th May 2023, during the Railtex exhibition, Managing Director of Tidyco, James Tidy, signed an agreement with French firm ENAG SAS, to maintain and overhaul their rail-specific products in the UK.
The contract comprised of an agreement to sell but more importantly, to maintain ENAG's range of battery chargers, discharge units and other equipment exclusively for the rolling stock industry within the UK. The French company produces a number of energy conversion systems for a variety of industries and was founded in 1946.
Tidyco already possesses the workforce and skillsets required to maintain these types of products, which are already owned by many of the UK based train manufacturers and operators. Therefore, it is a natural progression in the Rail Overhaul story for Tidyco to be chosen as the company to maintain and overhaul them on behalf of ENAG.
James Tidy, Managing Director of Tidyco, had this to say: "Our Rail division has worked tirelessly to develop our Rail overhaul facility into what it is today, a diverse, skills driven facility capable of dealing with a wide range of overhaul and repair projects. Being a UK representative to maintain these products for ENAG within the rail sector is a testament to this. Signing this agreement at Railtex is also very significant as it was at the last Railtex in Birmingham, where we first met Denise and ENAG in 2021".
Denise Barry, Export Sales Manager for ENAG, followed up with this: "I discovered Tidyco when I came to Railtex in 2021. We were looking for a reliable and reputable company with the ideal capabilities who we could partner with to establish a base that could look after these products within Britain and Tidyco really ticked all those boxes".
More information about Tidyco and ENAG Can be found via www.tidyco.co.uk and www.enag,fr respectively.
James Tidy signing the agreement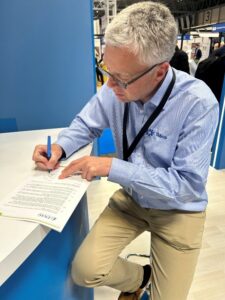 James Tidy, Managing Director of Tidyco, with Denise Barry, Export Sales Manager of ENAG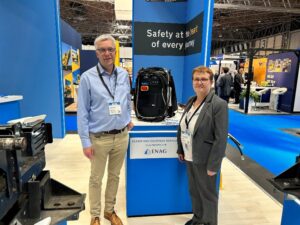 ENAG product images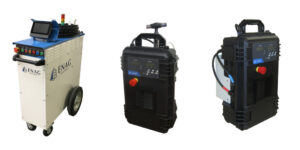 ENAG offices, Quimper, France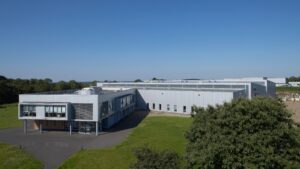 Ends
For further information, please contact:
Carl Eaton – Marketing Manager
Tidyco Ltd – Unit 2, Pentagon Island, Nottingham Road, Derby DE21 6BW
Tel:      +44 (0) 1332 851300 (Ext: 121)
Mob:     +44 (0) 7539 822264
Mon to Fri – 08:00 – 17:00
Email: carl.eaton@tidyco.co.uk
LinkedIn: https://uk.linkedin.com/in/carljeaton
Notes to editors:
Located in Derby (UK), Tidyco Ltd Tidyco meets the Hydraulic and Pneumatic demands for an international market through supply of Parker delivering solutions to over 50 countries worldwide. The fully functioning online store has thousands of parts ready for shipping across the globe.
Based in the UK Rail Capital of Derby, Tidyco Ltd has been in business for almost 50 years and has been supplying the rail industry for a substantial number of those. The company provides hydraulic and pneumatic products and services to major rail OEM new builds and after-sales markets as well as the overhaul and refurbishment of rolling stock components.
ENAG is a French business specialising in the design, development and manufactures of energy conversion systems for rugged and harsh environments, serving the rail, defence, marine and other industries. The company is located in Quimper, Brittany, France and was founded by Pierre Gane in 1946. The company was ultimately acquired by Henri Le Gallais in 2014.