Leather specialist Muirhead has become the world's first tannery to offer full-seat in-house fire testing capabilities, marking a new era for fire-retardant rail seating.
Muirhead's cutting-edge Fire Resistance Lab reduces turnaround time for flammability testing from months to hours, reaffirming its position as the leading expert in fire-retardant leather.
The manufacturer seeks to collaborate with the wider rail interiors supply chain to aid compliance with EN fire safety standards and ensure confidence in leather seat covers.
Paisley, Scotland – Muirhead, a trusted supplier of lowest-carbon high performance leather to the transport sector, says the launch of its in-house Fire Resistance Lab ushers in a new era for fire-retardant rail interiors.
Following substantial investment, Muirhead has become the first tannery in the world to offer full-seat fire testing capabilities. The leather manufacturer seeks to foster collaboration across the entire rail interiors supply chain, by enabling regulatory compliance and ensuring total confidence in leather seat covers.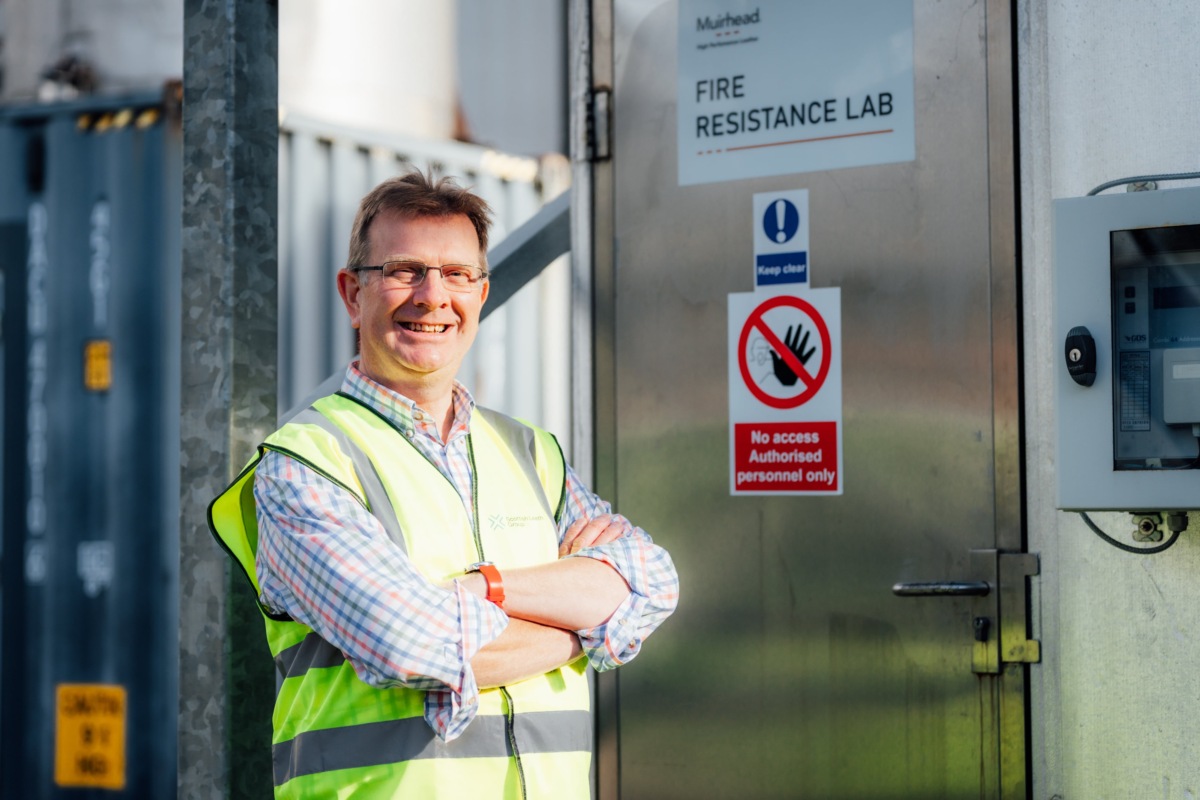 Muirhead's new, state-of-the-art facility will drastically reduce turnaround time for new product flammability testing, from two months to just four hours, and accelerate the development of new seat designs. In addition, it will reassure customers that their leather products are compliant with fire safety regulations upon delivery.
During a recent visit to the Fire Resistance Lab near Glasgow, acclaimed independent fire safety expert Dr Tony Cash said: "Muirhead's new full-seat fire resistance equipment, designed to replicate a newspaper fire, has revolutionised their testing capabilities. Alongside the commonly known bench-top fire testing instruments, they now have an exceptional tool at their disposal.
"Seat manufacturers use a variety of foam types, fire barriers and coverings in their products, so it's no surprise the latest EN rail standards require them to test the fire retardancy of the seat as a whole. We cannot claim that an individual seat component meets the standard since they must be tested together. The new measuring equipment enables Muirhead to simulate real-world conditions and test the full seat assembly in-house, eliminating customers' frustrations and expanding design possibilities.
"Muirhead has made a substantial investment in their new full-seat fire testing lab. This investment enables them to offer train builders, operating companies, and seat makers not only a market-leading warranty but also in-house fire testing assurance."
Stephen Hems, Innovation Manager at Muirhead, added: "Over the years, we have continuously worked on improving our leather sourcing, processing, and testing methods. With our new Fire Resistance Lab, we can now test new ideas more quickly, enabling us to keep pace with the evolving rail industry and maintain our reputation as the foremost leather supplier for ambitious rail companies worldwide.
"This investment and innovation will drastically reduce our turnaround time for new product flammability testing from two months to just four hours. Conducting testing in-house gives us the ability to gather more information and data to understand the key mechanisms that impacted the test result, making not only the test results quicker but also the development process more robust. Using such advanced technology in product development further strengthens Muirhead's position as the leading expert in fire retardant leather."
Since 2018, all new and retrofitted rolling stock in Europe must comply with the EN45545 fire safety standards, which ensure materials such as seat covers are not easily flammable and safeguard passengers in case of accidents or malicious acts.
The safety standards require manufacturers to conduct a full-seat fire test, as the way materials behave and react to fire can change significantly between small-scale lab tests and tests carried out using the fully assembled seat. By conducting full-seat fire testing, Muirhead can observe material behavioural changes and examine how the seat reacts in more realistic conditions.
The new milestone is the latest in a series of strategic moves by Muirhead, which included the launch of its 'Cut and Sew' service and the establishment of a factory dedicated to seat cover manufacturing in China. These initiatives reaffirm the company's role as a provider of end-to-end services that support the industry in developing train seats from inception to completion.