Gramm Barriers - Member
Membership status:
Member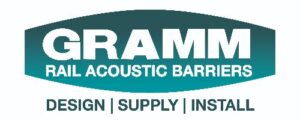 GRAMM Barrier Systems are an acoustic solutions specialist for rail infrastructure. Established 28 years; offer a full design, supply & installation service. Clients include Network Rail, HS1, TfL, East West Rail, Cross Rail and HS2.
Supporting consultants & contractors ECI with unique solutions meeting specification, value for money and reduced maintenance with improved safety.
POLYSoundBlok® Absorptive is manufactured from recycled PVC has extremely effective deadening properties. The absorber is recycled PET from water bottles diverting waste to the ocean. Lightweight, non-conductive, sustainable, and rapid installation reducing possession time.
WHIS®wall; is fully Network Rail Approved combines a low noise barrier with weathering steel diffractor. Only 1 metre in height, achieves up to 9 dB noise reduction, equal to a 3-metre-high noise barrier. WHIS®wall requires only a flat and strong foundation, installing 300 metres per day. Because of its height reduction & view preservation, WHIS®wall receives huge support from residents.
SilentRail® a dampening compound directionally sprayed onto the rail web by a patented system that accurately places where it is most effective. Results show a reduction of up to 6dba.
Treatment is permanent and won't wear with age. Further high-tech thermal coatings available, to prevent buckling and welded joints from breaking.
Contact member:
18 Clinton Place, Seaford, East Sussex, BN25 1NP
Profile last updated: 2022-09-26 06:23