Scott Parnell Ltd - Member
Membership status:
Member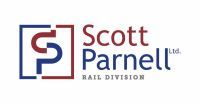 As experts in all areas of groundworks and civil engineering we are proud to have developed and set up our own separate Rail Division supported by a Team of dedicated staff with a wealth of industry knowledge.
We have forged strong relationships with all major suppliers of rail construction products. This means we are ideally placed to provide a first rate, knowledgeable service to our customers, while offering extremely competitive rates. Alongside our extensive stock of platform, trackside drainage and signalling products we are also proud to be the sole suppliers of ArcoSystem Trough, Technocrete Cement Free Postmix, Touchsafe 100% GRP Palisade, GRP Ballast Boards, TDS400 Modular Drainage System and FlexMSE Vegetated Retaining Walls.
We are also the only distributor to hold stock of Cubis Multiduct.
For more details about our rail products, click on the tabs below, or call one of the team in our dedicated rail office on 0208 8055797.
Contact member:
Unit 1 Swanvale Industrial Estate, Witham, Essex, CM8 3DH
Profile last updated: 2022-05-26 08:12