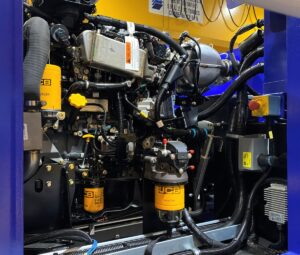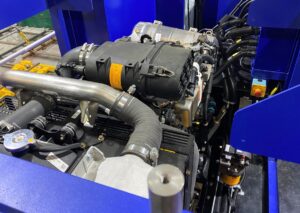 Two well established UK manufacturing businesses are giving the nation's rail sector a much-needed boost by collaborating with a third-party distributor on a project for a new fleet of rail haulage locomotives.
Clayton Equipment is taking supply of JCB Power Systems manufactured ECOMAX 55kw IPU Stage V engines from Power Torque Engineering to apply in the build.
Clayton Equipment currently in its 90th year is the only British independent locomotive manufacturer in the UK capable of designing and manufacturing locomotives up to 150 tonnes, is contracted to supply Beacon Rail with fifteen innovative Hybrid +TM CBD90 locomotives over the next three years. The first of which is scheduled for testing at Chasewater in November.
Power Torque based in Coventry, a UK family-owned modern company with a proud 100 year history is a major player in the supply of industrial and automotive engines and components, supplying Clayton with the JCB ECOMAX engines and will also provide technical support from their Engineers.
JCB Power Systems is part of the JCB group, a family business established in 1945. Today the company is a world leader in the manufacture of construction and agricultural machinery and also in innovative clean diesel engines. As well as powering JCB's own equipment, JCB engines are designed for a diverse range of other applications in specialist markets.
Each JCB engine unit used by Clayton Equipment is British engineered and manufactured, supported by a worldwide engine distribution network that specialises in engine sales and support, providing a further level of local technical expertise.
The key benefits of adopting the JCB ECOMAX engines in the Beacon Rail locomotives include smaller package size, reduced installation complexity, reduced fuel consumption and routine maintenance free exhaust after treatment meeting the latest emissions legislation.
Clive Hannaford, Clayton Equipment MD says "As a British, UK based company using British manufactured parts is key to us and we are often keen to emphasise this to our customers. Building partnerships with businesses such as JCB and Power Torque enables us to retain the UK manufacturing heritage and also access a fast turnaround for production. JCB Power Systems has a history of providing a proven approach to emission control solutions that not only meet legislation requirements but deliver customer value through lower operating costs. In addition, the quality, reliability and performance will provide real benefits to Beacon Rail."
Ben Mark, JCB OEM Engines Sales Manager added: "Clayton Equipment was looking for a compact, heavy duty, Stage V engine for its demanding application. JCB was able to provide a perfect solution with its DIESELMAX 430 Engine. We are privileged to be able to supply a local business with a quality solution for its machines and look forward to the opportunities this will bring for both companies."
Anton Weingaertner, Sales Manager at Power Torque commented "We are pleased and proud to be working with Clayton Equipment on this project as it truly is an all-British collaboration.  A combination of factors brought us together – namely our location, being so close to Clayton, rapid availability of engines from our stock, our in-house technical support and (of course) a great product package from JCB."
For more information on Clayton Equipment Ltd, visit: www.claytonequipment.co.uk or find us @ClaytonEquipltd on Twitter, Instagram and Claytonequipmentltd on LinkedIn and Facebook.
-ends-
For further information:
Clive Hannaford on T. +44 (0) 1283 524474 or clive.hannaford@claytonequipment.co.uk
About Clayton Equipment Ltd:
Clayton Equipment Ltd has an enviable reputation for its ability to both design and build modern traction of all sizes, incorporating modern technology and meeting the latest emission standards with a long pedigree in the railway industry dating back to its formation. Clayton Equipment is well positioned to take full advantage of the growing demand for new environmentally friendly traction