GB Railfreight (GBRf) has unveiled its latest Class 66 locomotive named 'Glory to Ukraine', outshopped in a special Ukrainian livery.
GBRf stands with Ukraine and this newly painted locomotive honours the people affected by the conflict as they continue to courageously defend their homeland.
-ENDS-
Notes to editor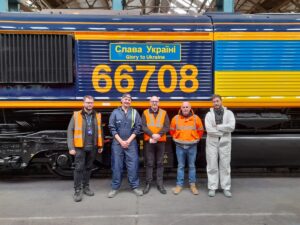 (Left to right)
Adam Barber, Arlington Fleet Services
Gary Woodman, Arlington Fleet Services
Bob Tiller, GB Railfreight
Jim Nickman, Arlington Fleet Services
Christian Sganca, Arlington Fleet Services
About GB Railfreight
Founded in 1999 and headquartered in London, United Kingdom, GB Railfreight (GBRf) is one of the fastest growing companies in the rail industry, transporting goods for a wide range of customers across the country.
GBRf operates a reliable, safe, and sustainable portfolio of rail freight services for customers working in intermodal, energy generation, infrastructure, waste, construction, and rail services.
With a workforce totalling more than 1,000 staff from across the UK, GBRf's unique people-focused culture has won the acclaim of the sector, achieving the Great Place to Work award at the National Rail Awards 2020.
For further information, please contact:
Luke Baglee, Communications Officer
T: 07840 385432