Loughborough-based Flotec, a trusted and leading supplier of hydraulic, pneumatic and pipeline products to industry, has launched the 'Share to Care' campaign.
Flotec has launched its very own 'Share to Care' campaign, to raise awareness about a mixture of charities and good causes of which, various employees feel passionate about.
Flotec's Head of Marketing, Barry Michael Aldridge, explains how the idea evolved:
"Earlier this year, I was developing an updated marketing strategy for the business and had just finished reading a book by Alec Ross.
Titled 'The Raging 2020's', in one chapter Ross was discussing shareholder capitalist organisations whose primary concern is the value of corporate share value over employee wellbeing and their local communities.
It made me think about how rewarding it feels working for SME Flotec and that being an employee-owned company nurtures a genuine feeling of ownership and solidarity amongst us all.
With the commercial and external stakeholder strategy cemented, I began considering internal employee engagement and how everybody could become involved in marketing by raising awareness about a good cause close to their hearts, which would hopefully create enthusiasm amongst the team.
I threw my preliminary idea out to the office, not knowing how it would be perceived. The response was incredibly positive where the concept began to take shape and blossom.
We talked excitedly about charities that felt personal to us and gave an explanation as to why.
There was a kind of energy felt within the room and a belief that this could be something quite magical."
Chloe Smith, Purchasing Executive for Flotec expands:
"This was great thinking on Barry's part and got us coming up with some exceptional ideas as to how we can all learn from one another before telling our stories to the outside world.
It feels massively special because it is providing a powerful voice for us to collectively stand up for causes which we think are important, raise awareness to other people outside of Flotec and influence positive change."
For Barry, there was an additional driver behind the 'Share to Care' initiative. In July 2016, he was the victim of a serious hate crime.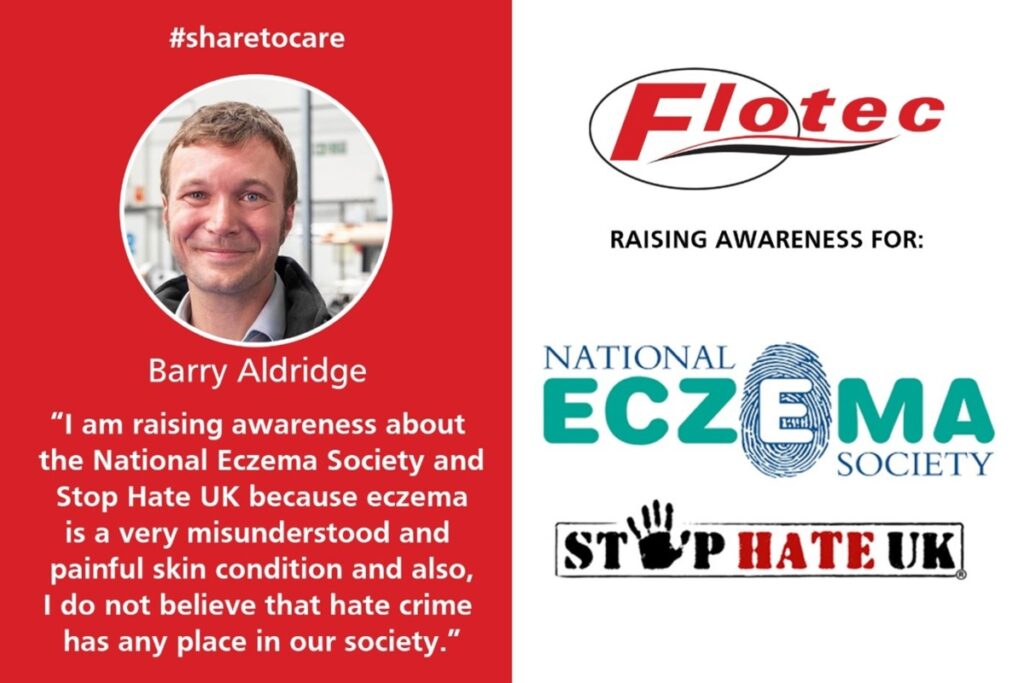 Aldridge explains:
"I was targeted by a group of five people for suffering with eczema which was really distressing because when eczema flares up, it is incredibly painful and difficult to live with.
The perpetrators attacked me by saying they did not like my skin and that I was contagious, and they did not want to catch a disease from me.
I explained that eczema is not contagious and only affects the individual who suffers with it. They did not accept my answer and ridiculed me when I got upset.
They called me an attention seeker who couldn't take a joke and was spoiling their fun. When I told them that I am a human being, they laughed.
For them it was a joke but for me, the attack really hurt my feelings.
Because my skin condition has a long-term effect on my daily life, it is considered a disability which under the Equality Act of 2010, is a legally protected characteristic.
After careful consideration, I contacted the Police because I felt that I had been treated very badly.
Upon giving a comprehensive statement, the officer agreed this was an offence and allocated me a crime reference number in relation to a public hate order.
He informed me that he could make arrests if I wished but I really didn't want to. We agreed instead for him to deliver a disability awareness and training session.
I was pleased with the outcome because I very much believe in the importance of learning and education.
Hate crime is really traumatising because the offenders intentionally pick on something which is personal to the victim.
In August 2020, I suffered a major flare up of eczema and was admitted to hospital to get the condition under control before life threatening blood poisoning took control.
Now an outpatient, I am still undergoing treatment to manage the flare up and continue to be in a great deal of pain, discomfort, and suffering.
These are my personal reasons for launching this marketing project and feel incredibly proud of my colleagues who have stepped forwards to talk about their chosen charitable causes and individual reasons for doing so."
Stop Hate UK is one of the leading national organisations working to challenge all forms of Hate Crime and discrimination, based on any aspect of an individual's identity.
You can learn more about Stop Hate UK and support this cause by visiting www.stophateuk.org/
Unfortunately, there has been a continuing rise in hate crime reports and Gov.uk has published the following statistics:
in year ending March 2021, there were 124,091 hate crimes recorded by the police in England and Wales
excluding Greater Manchester Police who did not supply data for year ending March 2020 there was a 9 per cent increase compared with the previous year
Typically, a hate crime is any crime committed against a person or group of people based on disability, race or ethnicity, religion or belief, sexual orientation, and transgender identity.
Hate crime is not just limited to the listed protected characteristics as it can also target social groups such as emo's.
According to the NHS, eczema is described as a condition that causes the skin to become itchy, dry, and cracked.
Oxleas.nhs.uk has published the following facts:
The number of eczema sufferers has been rising steadily for some years, and now stands at 1.3 million in the UK.
Eczema isn't catching (infectious).
The most common form of eczema is atopic eczema or atopic dermatitis. Atopic is the word used to describe allergic conditions such as asthma and hay fever.
Around 90% of eczema cases occur before the age of five.
Half of children affected by eczema will be almost clear of it by the age of six. Three-quarters will be free of it by the time they are teenagers.
Occasional flare-ups are always possible in adulthood.
The National Eczema Society exists to support everyone impacted by the condition.
You can learn more about the National Eczema Society and support this cause by visiting www.eczema.org/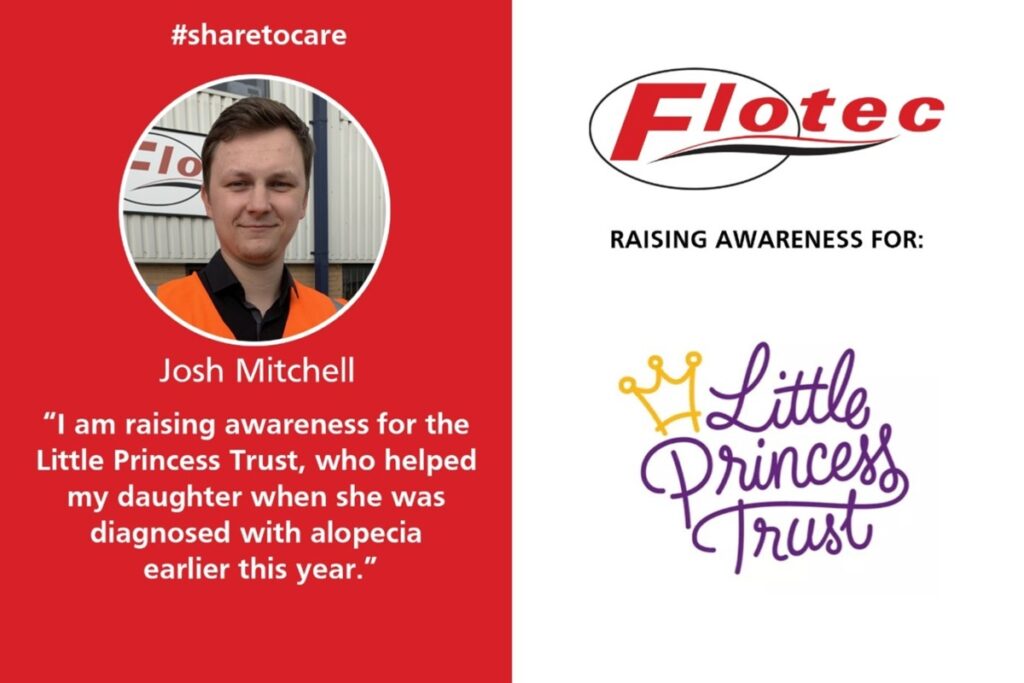 Josh Mitchell is Flotec's Internal Sales Executive and earlier this year his daughter developed alopecia.
Alopecia is the loss of hair which can be caused by many different complications ranging from stress through to being an auto-immune condition or by undergoing certain medical treatments.
Alopecia can be particularly distressing and unpleasant because people often take great pride in their hair, as it can play a major part of our personality, individuality, and style.
After doing some research to see what could be done to help his daughter Josh came across the Little Princess Trust.
The Little Princess Trust is a charity that provides real hair wigs, free of charge, to children and young people who have lost their own hair.
The charity sent Josh's daughter a free wig which gave her confidence a boost and made her feel much better about herself.
According to alopecia.org,uk The NICE calculation gives a figure of around 100,000 people in the UK that are currently affected by alopecia.
You can learn more about the Little Princess Trust and support this cause by visiting https://www.littleprincesses.org.uk/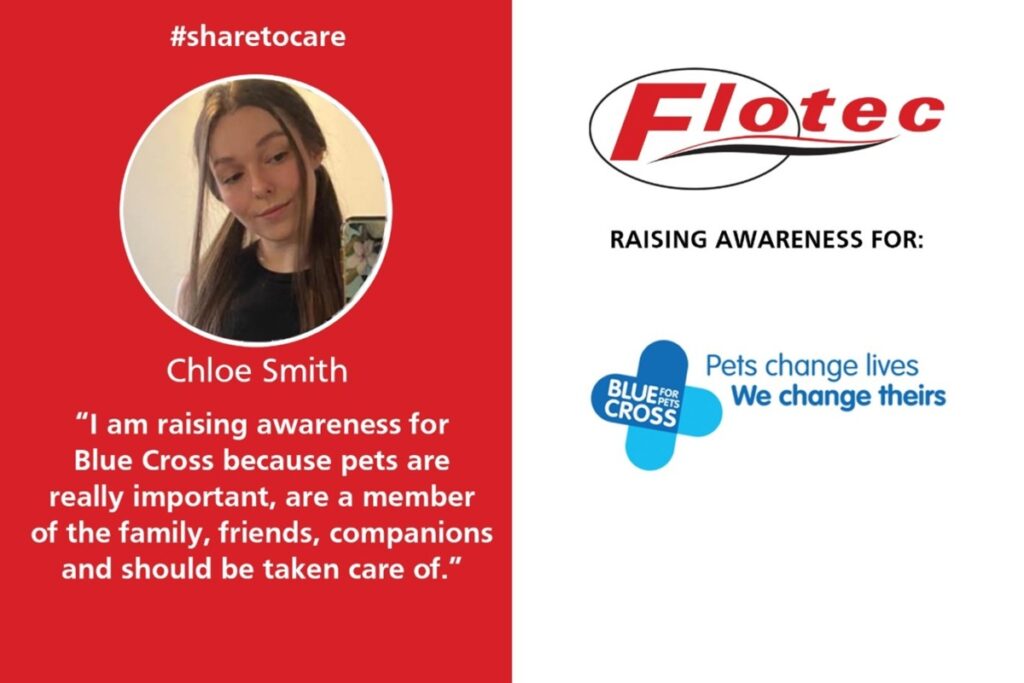 When asked what cause Chloe would like to raise awareness about, she replied:
"Anything to do with animals and more specifically, pets."
Most people would agree that pets play an important role in our daily lives, are greatly loved and considered to be a friend, companion, and additional member of the family.
Undeniably, pets can contribute to a much healthier mental wellbeing and bring immense joy to many owners.
Pets have also helped lots of people through the lockdowns and isolation of COVID.
The team got busy doing some online searching and discovered the Blue Cross.
The Blue Cross provides a range of services to make pets lives better such as re-homing animals into new, caring homes, free veterinary treatment, free education and training throughout the UK and support to grieving owners who have lost a pet.
You can learn more about the Blue Cross and support this cause by visiting https://www.bluecross.org.uk/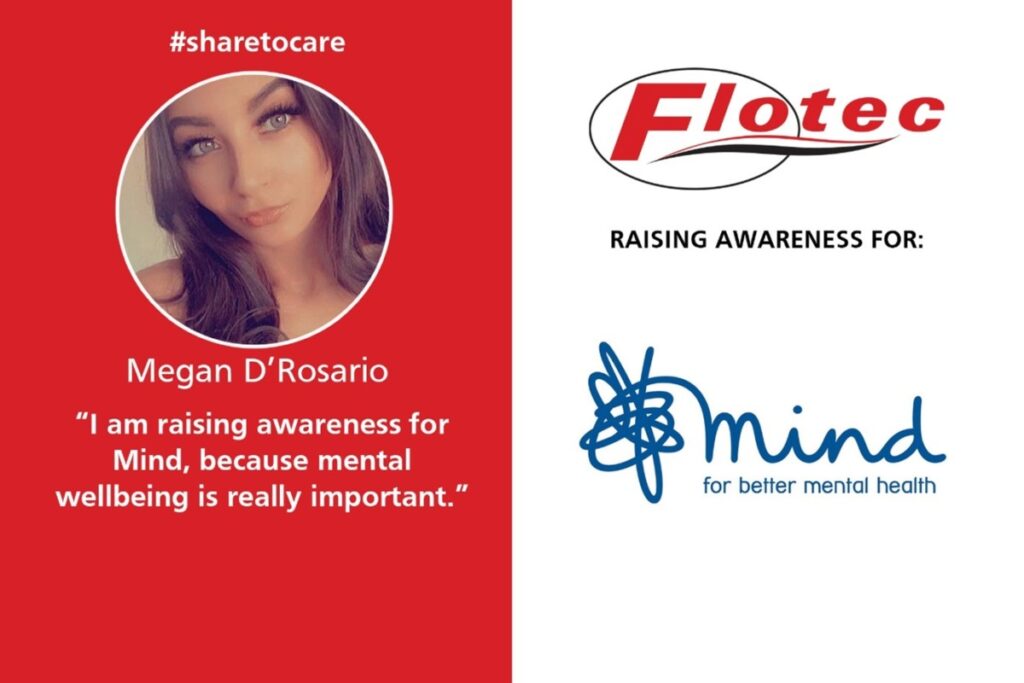 Mental wellbeing has certainly been a topic of important discussion over the past few years with COVID placing many people under great feelings of uncertainty, stress, isolation, and loneliness.
Flotec's Purchasing Assistant Megan D'Rosario took to the podium and proposed Mind as her designated good cause.
The Survey of Mental Health and Wellbeing in England found that 1 in 6 people aged 16+ had experienced symptoms of a common mental health problem, such as depression or anxiety during their research.
Obviously, mental wellbeing is a very important subject matter and should be embraced by everyone.
Mind's mission is to make sure no one has to face a mental health problem alone.
You can learn more about Mind and support this cause by visiting https://www.mind.org.uk/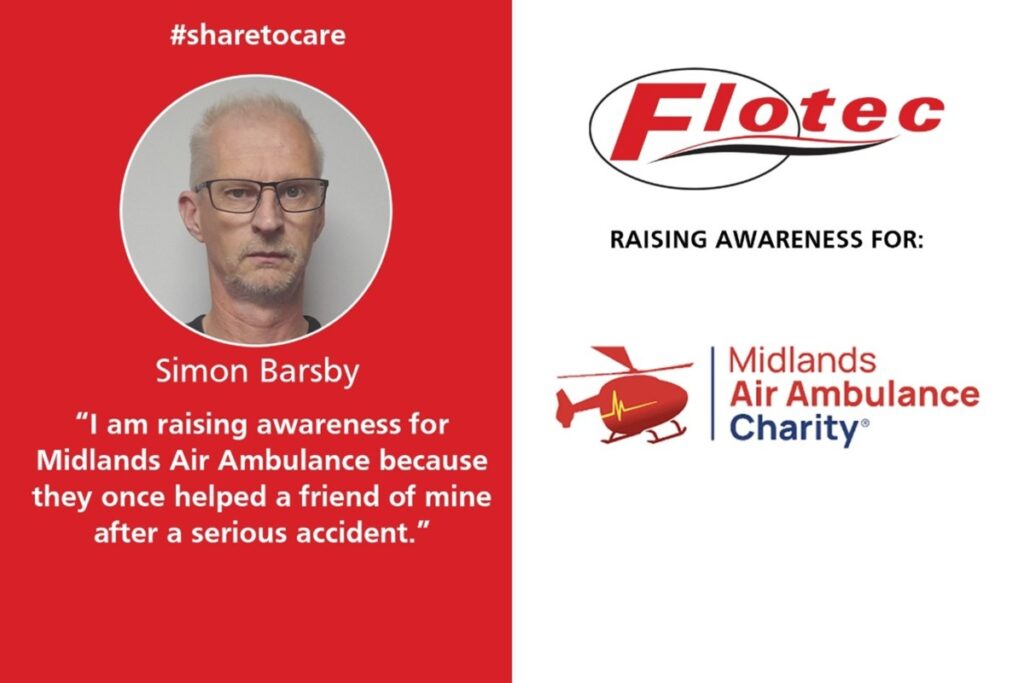 For Simon Barsby, Flotec's Delivery Driver, the Midlands Air Ambulance Charity came to the forefront of his mind.
Simon and his social network are keen motorcycle enthusiasts and when one of Simon's friends was involved in a road traffic incident, it was the Midlands Air Ambulance who came to the rescue and played a critical role in saving the man's life.
The Midlands Air Ambulance Charity ethos, is to:
"Save lives by saving time."
The logistics of this vision is to save lives by air when road vehicles could potentially encounter delays in both arriving to an incident and transporting the patient or patients to hospital.
In May 2022 alone, 247 MAAC missions were deployed with a grand total of 68,323 missions being undertaken since the charity's incorporation in 1991. 100% of missions have been funded by donations.
You can learn more about the Midlands Air Ambulance Charity and support this cause by visiting https://www.midlandsairambulance.com/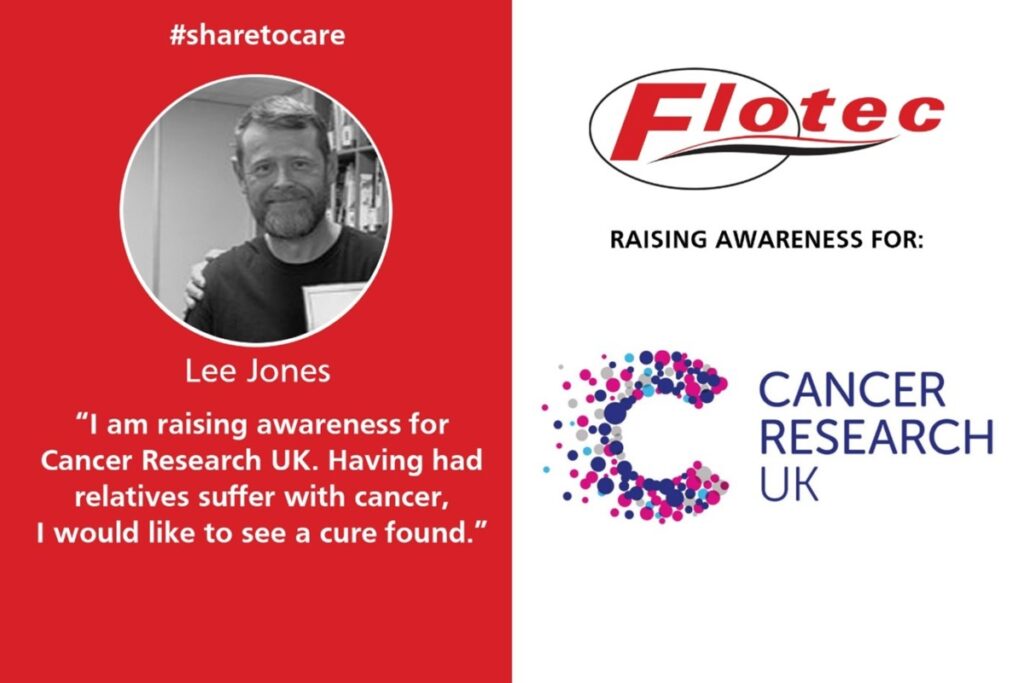 Arguably, everyone has been affected by cancer at some stage in their life, either directly or indirectly through family, friends, colleagues, or associates.
The reach and stretch of cancer is indisputably gargantuan, with Cancer Research UK estimating that around 375,000 new cases of cancer are reported in the UK each year.
Because of these numbers, we may unfortunately experience cancer in one form or another many times throughout our lives.
For Flotec's Warehouse Operative Lee Jones, raising awareness about the work done by Cancer Research UK feels incredibly poignant as his mother is currently going through extensive cancer treatment.
Cancer Research UK works relentlessly to develop new treatments and attempt to find cures.
A few of Cancer Research UK's accomplishments include trialling a 'sponge on a string' to detect oesophageal cancer and finding genetic 'fingerprints' that implicate a gut bacterium in bowel cancer.
You can learn more about Cancer Research UK and support this cause by visiting https://www.cancerresearchuk.org/
In addition to the 'Share to Care' awareness campaign, 2021 witnessed Flotec's very own Chloe Lofthouse and Sophie Wright undergo St John Ambulance training to become workplace mental health workplace responders.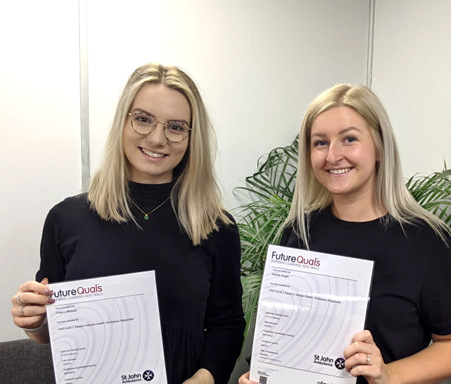 Earlier this year, Barry helped SME Flotec to become a disability confident employer.
When asked about the objective of the 'Share to Care' campaign, Barry summarises:
"It is about using marketing and its various communication channels to empower Flotec employees to raise awareness about causes that are important to us and promote our designated charities to an external audience.
As you can see, we have chosen a diverse mix of good causes whereby, all of whom are doing some incredible work.
If people feel inspired by this campaign, I urge companies of any size to do something similar.
You will learn a lot about each other and discover even more charitable organisations beyond the Flotec list who are also doing exceptional things.
Furthermore, you will be able to raise awareness about what it is they do and why their hard work is important.
Of course, if readers feel empathetic towards any of the charities raised in Flotec's campaign, please do engage, and get involved with them directly.
We are going through tough economic times right now, with everybody feeling under financial pressure.
I suspect that charities will be finding it difficult to raise much needed funds and so, this is not about individually donating large sums of money but, lots and lots of little donations given by a large collective of people will help to generate big numbers which can make a huge difference."
You can follow and like Flotec Industrial Limited on LinkedIn, Twitter and Facebook and get involved by creating your own good causes awareness campaign by using the hashtag #sharetocare