Rail Forum are excited to share the final line-up for InfraTalk 2023, with 30+ confirmed table hosts, including several new participants. With Tier 1s, customers, clients, supply chain and key stakeholders present, InfraTalk provides barrier-free networking to engage with key individuals from the industry.
This pure networking event, taking place on 26 January 2023, is fantastic for finding new opportunities, meeting collaboration partners, exploring new innovations, engaging with supply chain, uncovering solutions to industry challenges, and gaining industry intelligence.
The VIP Keynote Address will be delivered by Andrew Haines, Chief Executive at Network Rail. Delegates will hear first-hand current thinking on CP7, intelligent infrastructure and collaboration.
Confirmed table hosts below (* New confirmed hosts):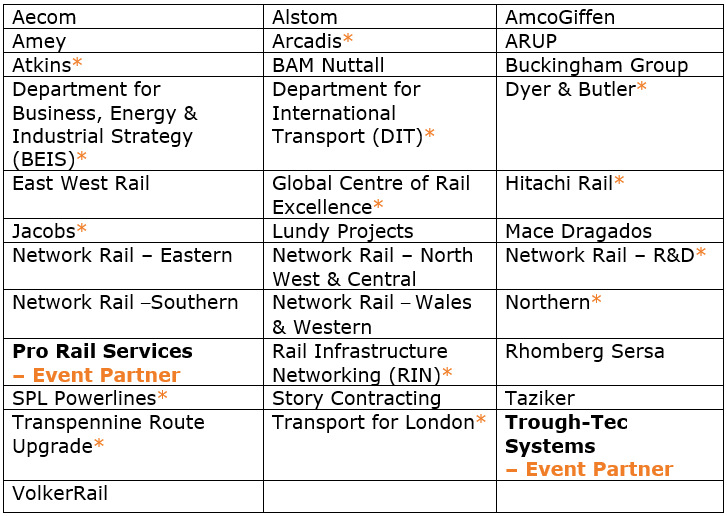 Elaine Clark, CEO of Rail Forum, said: "I would encourage all our supply chain to register and come along to InfraTalk 2023. This event will provide a unique opportunity to engage with key colleagues both on current projects and during the planning for CP7."
Ian Purdham, Regional Managing Director (North) at AmcoGiffen, said: "Rail Forum's InfraTalk is THE virtual rail industry event, a must-attend occasion to engage with clients, supply chain and industry partners."
Register today!
InfraTalk is open to members and non-members. Rail Forum members benefit from free registration and unlimited places.  Non-members can register one place for a small charge.
For more information and to book your place visit our website: https://www.railforum.uk/events/infratalk-2023/